Summer Solstice 6/21 opened "contemporary cat's happiness".
Cat is "energetically and enthusiastically" is the motto of happiness. The image of the Sun, so the longest day, decided on the day of the opening.
My family is 4 and my son and daughter to Cat 5. "Fun" led by "it's tenten!"and"" "in-" "Chibi" in are brother and sisters.
Mischievous and spoiled dog "Jack" are thus going freeloader.
I found out the cat's magical forest co., Ltd., is from an article published in the catalog for the Pal ☆ System Link Ring Love that dog and cat live.
Contemporary work and contemporary training course was introduced here.
Looked at the article, I see this is my job! "And right off the bat was the course registration, and intuition.
Feeling the difficulty of ever enjoy raising their children in nature, such as sea and mountain in Zushi, also raise a child's mind, supported child care society teachers and colleagues, has been overcome. Among these has realized the importance of connectedness with family and others.
Important cat live with our family.
I think that harmonious family leads to let children and themselves.
Disgruntled by the family, had crashed? Catch the aura frustrating queasy that we unwittingly speak of sensitive children and cats.
I suppose up yelling, themselves together in a mad dash front gone from it.
In fact, a bubbly "Chibi" 近寄rimasenn while out loud, surprised the family.
Our "human" a calm mind will also be let for "them" to live. Regards and wishes to become "human" than "cat" let through the work of contemporary, to help.
Happiness is the contemporary cat is neko (CAT) Happiness (let) named the hope.
Please, thank you.

20106-lucky day Chieko Matsushita
I guess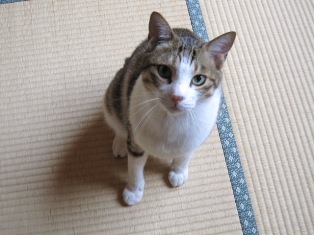 Tenten!
Chibi
Only!
Too like cats too, I was a student friend "to face cat she's becoming like" and referred to the
"Kitty ~! "And was known.

In my house now, "Chi taro" a male one is a cat.
We have cats until now is the most spoiled child.

It is away from home, such a child is no longer beams very disturbing.
Fortunately my parents and living with a complete date-to that voice too, but taro
If it is not, but if so when do! You may think.
I thought I could ask people at that time, you can really trust.

I want to become a person who can take care of the cats and I also trust us.
This page has been translated automatically. Please note that it may differ from the original content.